2013 wasn't the best of years, whether you were expecting to keep your plan, period, or whether you were a Horizon League team playing non-conference games.  (Although at least the HL didn't lose 5 million people.)
Let's see it out with a thorough look back.  After that we can make like my friend KC Peebz and I did in college, after we lost to a Super Nintendo set to Level 1 in Super Bomberman, and pretend it never ever happened.
SPECIAL FUN NUMBERS NOTE:  The RPIForecast numbers were valid through games of 12/30.  I am well aware of the fact that not only have they already changed, they will change again by the time you read this.  So.  That's life.
RECORD
The teams are listed in predicted order of finish, according to RPIForecast.com.  In this, as in all further tables, the bold is best and italics worst.  (Yes, annoying Milwaukee fans, I shouldn't let this pass without pointing out that you were the only team that didn't play more than 1 non-D1 game.  Have a cookie.)
Bill Potteresque FUN FACT #1:  The Horizon League was 19-0 against non-D1 teams!  Take that, Cincinnati Christian. [/vincentpricelaugh.mp4]
RATINGS PERCENTAGE INDEX (RPI)
It's interesting to look at where RPIForecast not only thinks we are now, but where we'll end up.  In a couple cases last year, it was dead on.  Others…not so much.
Valpo fans are looking at this and nodding.  Of course a team this up and down will be exactly where we left them.  The Wisconsin teams are wondering why they have to dirty their hands with the rest of us.
Interestingly, you might think that the difference in the expected finish would be just about even for the conference.  If you look at the numbers, though, you'll see that only 2 teams are predicted to end up higher–WSU & CSU.  The sum total of the differences is negative-131, or a drop of about 15 slots per team.  That's what we're left with, whilst we bludgeon each other.  RPIForecast says that we're #13 in conferences, but will end up #15.  Even after we pawned off Loyola on the MVC.  Sigh.
STRENGTH OF SCHEDULE (SOS)
Reports of Oakland's OOC schedule were, um, maybe even underrated.  In fact, it was kind of like that part of The Hunger Games, where like a whole bunch of strong people line up to wallop them with a club–except that I'm over 15 and haven't read it, and I'm under 40 so we haven't had a night at the movies in forever, so I can't make any kind of valid comparison here.  Let's move on.
It says something about how bad WSU's schedule was that they project to rise 90 spots in conference and still end up in the bottom 100 or so of the country.  Everybody else this side of Youngstown (ok, technically the whole HL is "this side" of Youngstucky) falls, although none as dramatically as Green Bay.  I'm still wondering why Milwaukee goes from meh to meh.  As bad as Wright's OOC was (and if you look around any HL site you'll read something about it), for the Panthers to end up just around the corner from them?!?  And for our conference to average dropping 30 spots each?  To paraphrase Dr. Leo Spaceman, "statistics…it's not a science!"
BEST WIN
So, we're kind of like the Mohicans here–not a lot of scalps to our credit, and we're about to start turning on each other until there's only one of us left.  But there is a top-50 (um, literally) and 2 more top-100s here.  Detroit's best win is on the road, which is interesting.  Green Bay's win over Virginia is not looking as great as it did at the time, but Oakland's OHIO is looking even better now.  Still, on the whole, not great, but then I didn't go to all this trouble last year, so I can't compare.  I'm just going to go out on a limb and say that we did better then, and let's all feel better about ourselves.
WORST LOSS
It says a lot about Green Bay's strength that their worst loss was at a top-100 school.  And EMU beat the rest of the HL they played too.  Interesting that the next two teams are both variations on history's second-favorite saint, and let's just gloss over how terribly terrible it is to lose to a school IN THE BOTTOM QUARTILE, YSU, UWM & WSU.  And when you're UIC losing AT HOME to a GAWDOFFAL EIU team, well, thanks.  I'm just like…I don't even know.
Oh, and thanks also for losing to Loyola, UIC and Milwaukee.  Way to help us send THEM a message.  It's like somehow ending up getting a dance with your ex-girlfriend, and instead of showing her what she's missing, you step on her toes, while simultaneously the button to your pants bursts off, hits her in the eye, your pants fall down, and she Rochambeaus you, steps over your prostrate, contorted self and walks off with the quarterback.  And also, she took your wallet.
And she's still unattractive. And if you're looking for predicted conference finish, this might not be a bad list to go by.

So this bad boy teaches you a few things.  Such as, UIC still hasn't won at home.  Given that they haven't treated the home fans to a D1 win since March 20, and they haven't treated them to a win over a team that doesn't rhyme with Bicago Bate since March 5, it could be almost 11 months before they reward them thusly again.  Hope you enjoyed that pasting of Purdue-Cal, Flames fans.  Both of you.
Also, this shows that Milwaukee is having a pretty good year, and that Davidson will never play them again.  Cleveland State's pretty respectable across the board.
Now let's look at some KENPOM numbers.  I feel that KenPom is pretty reliable, once you understand that his numbers are biased toward UWM (that's the University of Wisconsin @ Madison).
Now the part everyone's been waiting for, the If Your OOC Schedule Were a Movie
Valpo:  Oceans Eleven, because they have all these good players and they haven't figured out what to do with them yet
Detroit: The Hunger Games, because I didn't care to see any of it
Milwaukee:  Sharknado, because you thought that it would be as bad as the prequel (Snakes On A Plane), and it was actually surprisingly enjoyable, if you were a shark
UIC:  Anchorman 2, because the previous edition was so much better you wonder why they even got the team back together in the first place
Cleveland State:  Mystic River, because it's nothing spectacular, but trés solid
Wright State:  Hoosiers, the only other team with as many white dudes on it, except for them it would have to be Hoosiers 2:  Back to the NAIA
Youngstown State: Anything by Quentin Tarantino (too many bad shots)
Oakland:  Stalingrad (a movie about losing on the road in hazardous conditions)
Green Bay:  Crossroads, the Britney Spears movie, because it can't possibly be as good as all the hype–or can it?
So, let's pretend like this were some kind of comprehensive points-type system and crown the 2013 HORIZON LEAGUE (NON) CONFERENCE CHAMPIONS.  Giving points from 9-1 or 10-1 depending on category–and taking them away when it's not a category to be in.  Like so:

Ladies and gentlemen, your (NON) CONFERENCE STANDINGS, in order of the Phoenix: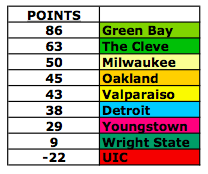 Yes, UIC, this really sums it up.  You did set the Barlow. /tooeasy.gif
I'm not saying this is going to be the conference standings, because I don't think Milwaukee's for real yet.  Otherwise…this looks fairly plausible.